Although, managing a project schedule is not exactly the project planning or project estimation. However, they're very closely related. We'll explore that in detail in this post. Project schedule is a way to organize tasks to be done one after another, in parallel or depending upon other tasks. So this is what we'll see thoroughly but in an easy and fun way.
Getting Started: Managing a Project Schedule
Project schedule is an important element of a project, and is presented in the form of a project schedule document. And the schedule needs to be managed by the project manager as well. In this post, we'll see the tools and techniques of managing a project schedule along with understanding the concept with ease.
What is a Project Schedule?
In order to understand managing a project schedule, we need to first see what a project schedule itself is. A project schedule brings together all the tasks to be completed, the tasks relationships, time estimations, and resources in an organized calendar form. Although it integrates many aspects of the project plan, it is not a complete plan itself. It is only part of the plan.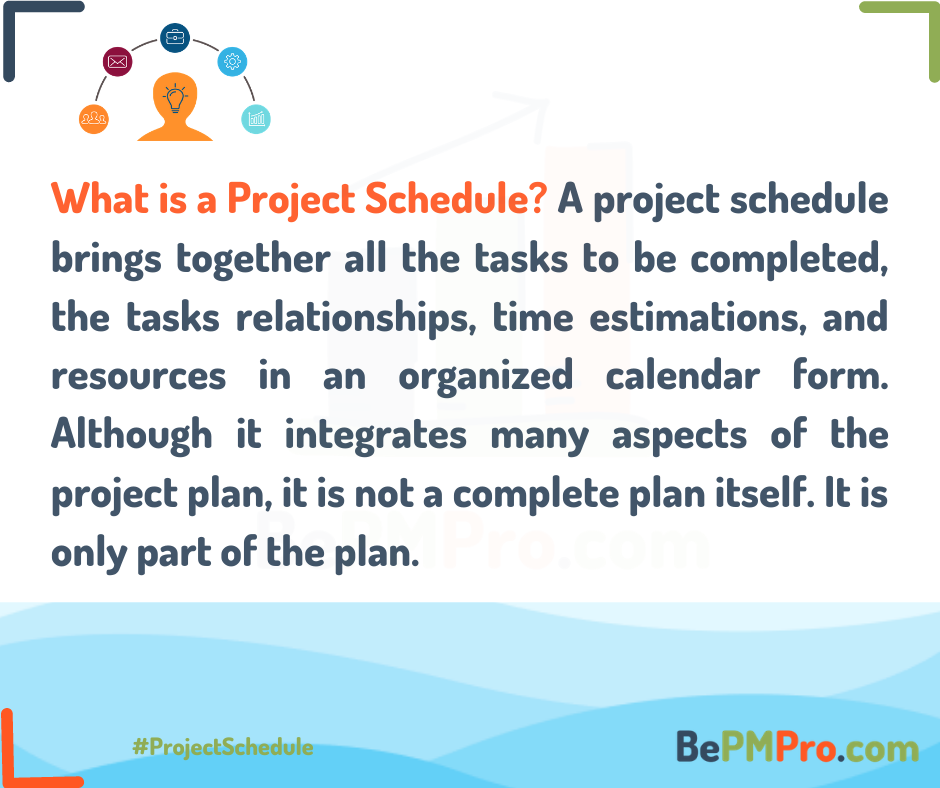 Why is Project Schedule Important?
Do we really need a schedule for a project? Why is it considered so important in project planning and execution? We'll see exactly that in the following points very clearly.
Brings together tasks in a calendar form
Creates relationships between tasks
Links time estimation and resources to tasks
Helps determine project budget
Manages delivery date expectations
Helps measure performance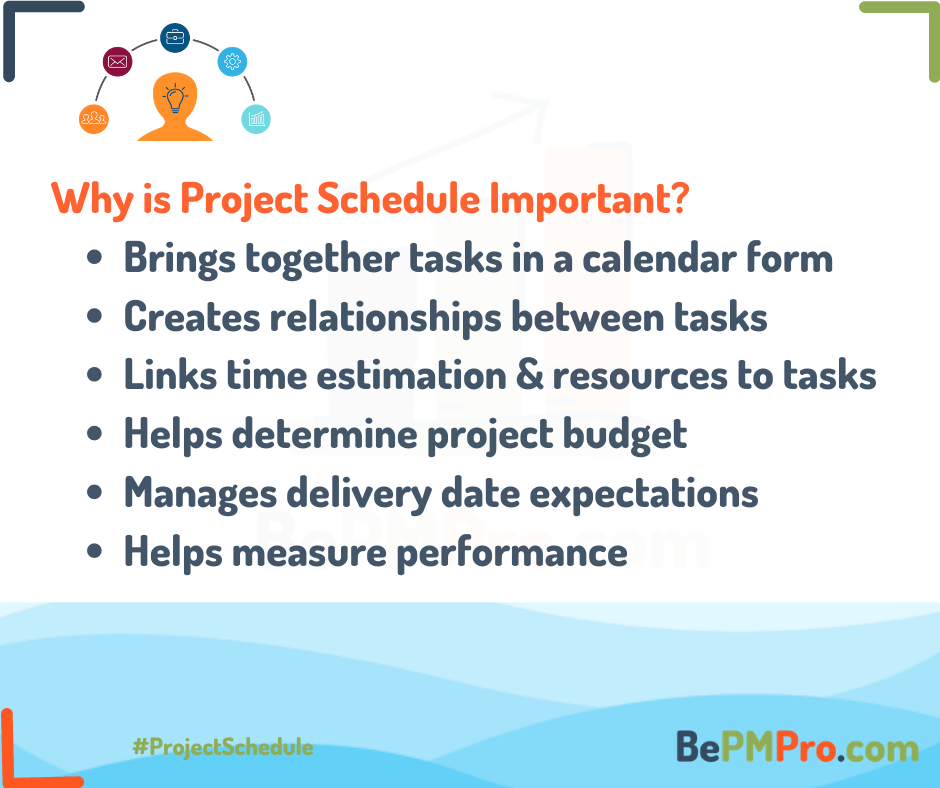 What are the Input for Project Schedule?
In order to create and manage a project schedule, we first need to see what is Required for a Project Schedule? What input do we need for this? And then we'll be able to link the dots. These inputs will help us in managing a project schedule and keeping it on track.
Work Breakdown Structure (tasks & milestones)
Relationships between tasks and dependencies
Estimates of the time required for each task
Resources requires for each task
Either a starting date or an expected end date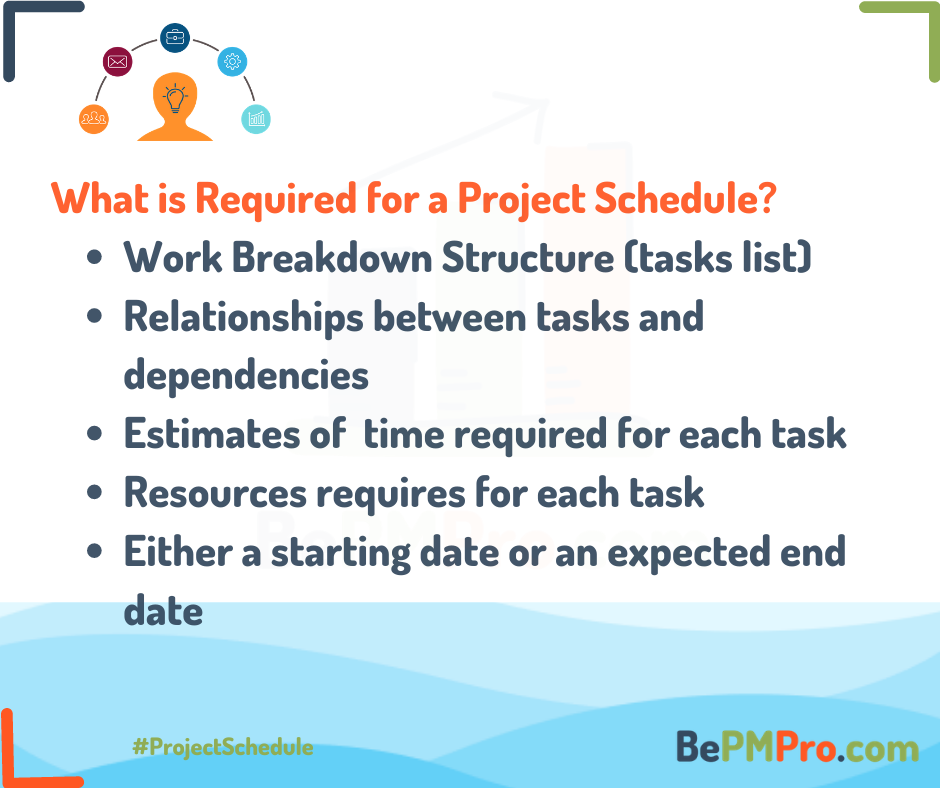 How a Project Schedule is Created?
The following steps elaborate the points and steps in a very precise way about creating a project schedule. We have kept it to the point, so you can pick it easily.
Create work breakdown structure (WBS)
Estimated time required for each task
Identify task relationships & dependencies
Determine resources needed for a task
Find Critical Path and optimize the schedule
Communicate the schedule to stakeholders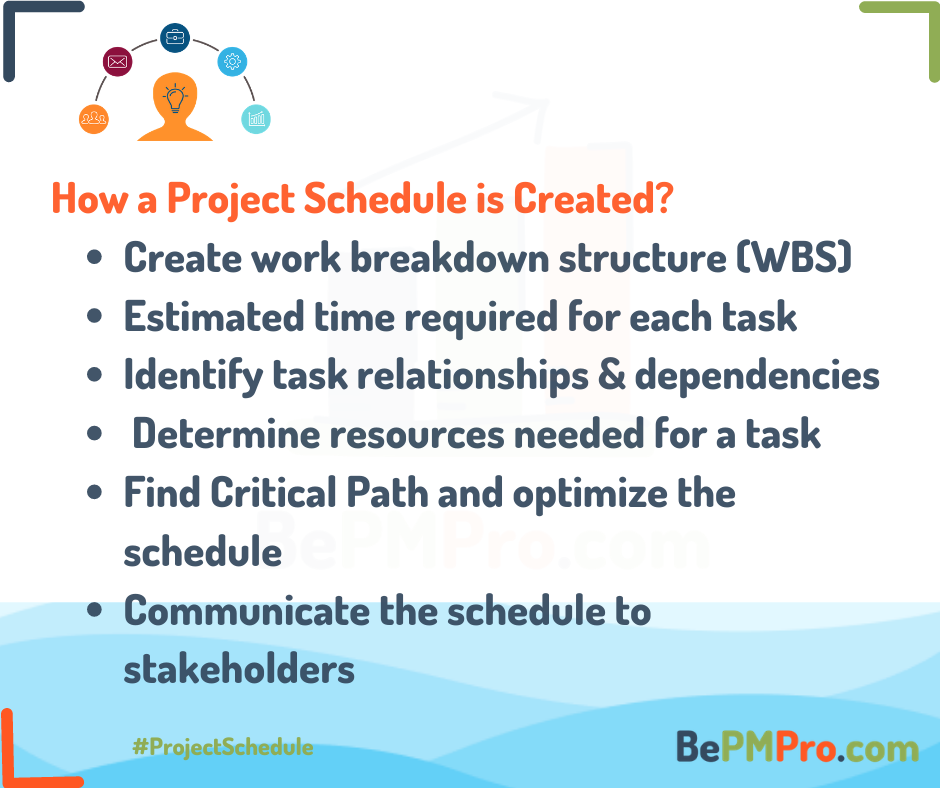 Issues Faced While Creating a Schedule.
You definitely need knowledge, skills, and expertise to create a schedule. However, it will not always go smoothly. So you need to aware of this fact and make sure that understand what type of issues you can face and then you can foresee them and also tackle them.
Missing tasks or incorrect sequencing
Icorrect task dependencies
Inaccurate time or resource estimates
Incompetence of the scheduler
Not involving team and stakeholders
Inability to find critical path of schedule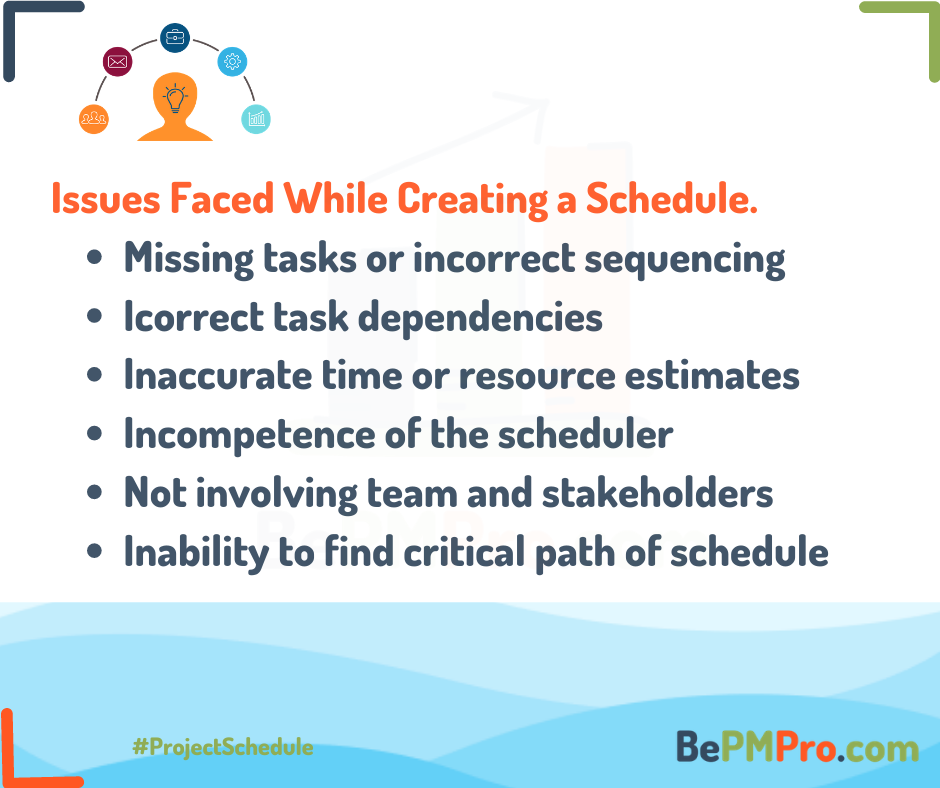 Role of Schedule in a Complete Project?
A project schedule takes many inputs like WBS, duration, resources etc. and integrates them in the form of a schedule calendar. This schedule then works as an input for many other project related activities like budgeting, risk management, monitoring, and performance measurement etc.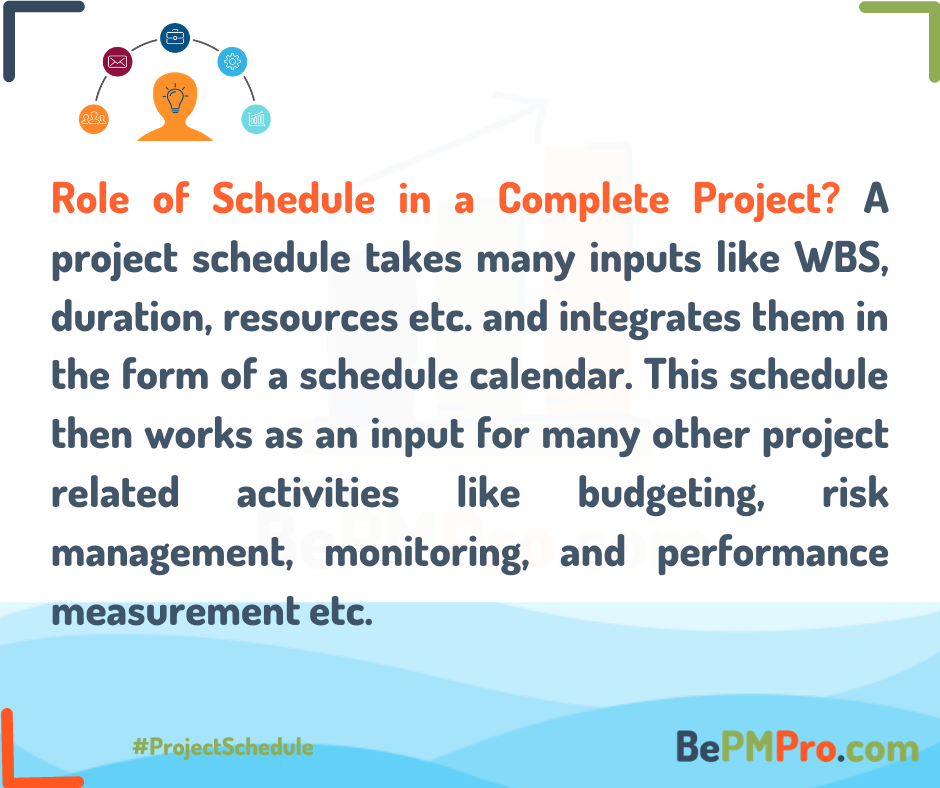 Project Schedule Documents
Project scheduling needs a Schedule Management Plan to describe how to build & maintain a schedule. A Schedule Calendar holds the complete project schedule. It is presented as a Milestone Chart, Gantt Chart, or Network Diagram. A scheduling software or templates can help create a schedule. This document proves handy in managing a project schedule.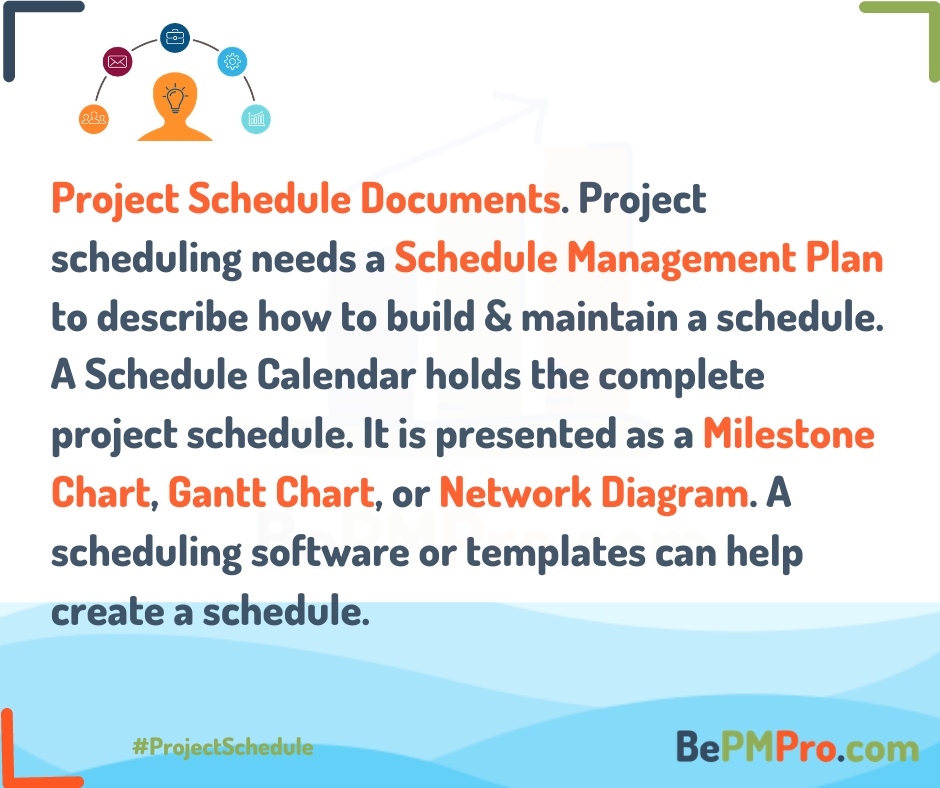 In order to be better able to get a hold of a project, you need to able to handle all aspects of a project. And managing a project schedule is only one of them.