Controlling a project is as important as having a human or artificial intelligence based driver for a car. If there is no one driving a car or controlling it, the car will not be able to go to the destination. The same is true with a project; without any control, we'll never be able to successfully complete a project and achieve the goals we set out to achieve.
We have already seen how to define project budget and how to manage it, and in this post, we'll move forward to understand how we control a project. The project control is not limited to just the cost or the control of the budget, rather it is related to all the aspects which have been defined in the project plan like scope, costs, schedule, quality, and other items.
What Does Controlling a Project Mean?
Controlling a project doesn't mean micro managing a project, rather it means to keep the project on track and on the path to successful completion. We define the baselines and assumptions at the start while planning a project. However, on the way, things change, but the project control system in place helps to keep the project on track, so we can accomplish the goal and deliver the result and output to the stakeholders and sponsors.
Defining Project Control
It helps to keep projects on track. The targets, baselines, and scope we had planned in project planning is maintained and achieved with project control. This means the project is to be delivered on time, on budget, and with quality required by the sponsor. If there is no control on these aspects then all these items will stretch to the limits, so either we'll be out of budget before the project completes, or we'll increase the scope of the project too much.
Sometimes, it is also possible that with the scope creep, we start building something different altogether. We can also face quality issues etc. So to keep all these elements in check and make sure that the required output is delivered on time, on budget, and with the required quality, it is important to keep a control on the project.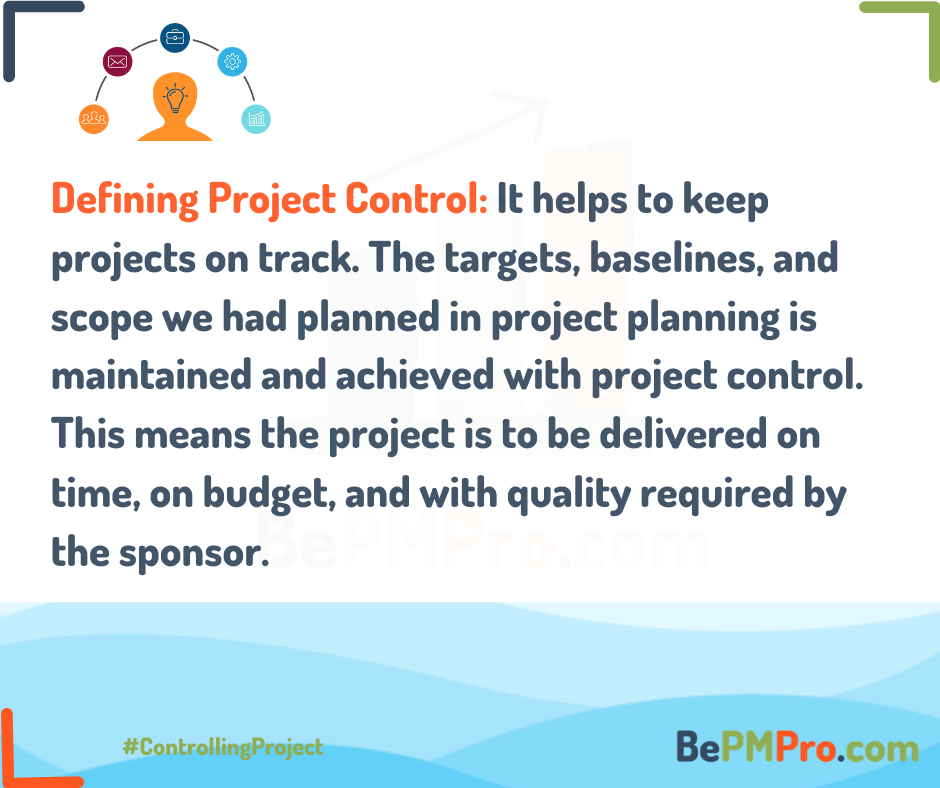 Importance of Controlling a Project
It keeps projects on track
Achieves critical success factors
Provides proper reporting mechanism
Timely identification of issues
Provides change control process
Helps manage various artifacts of the project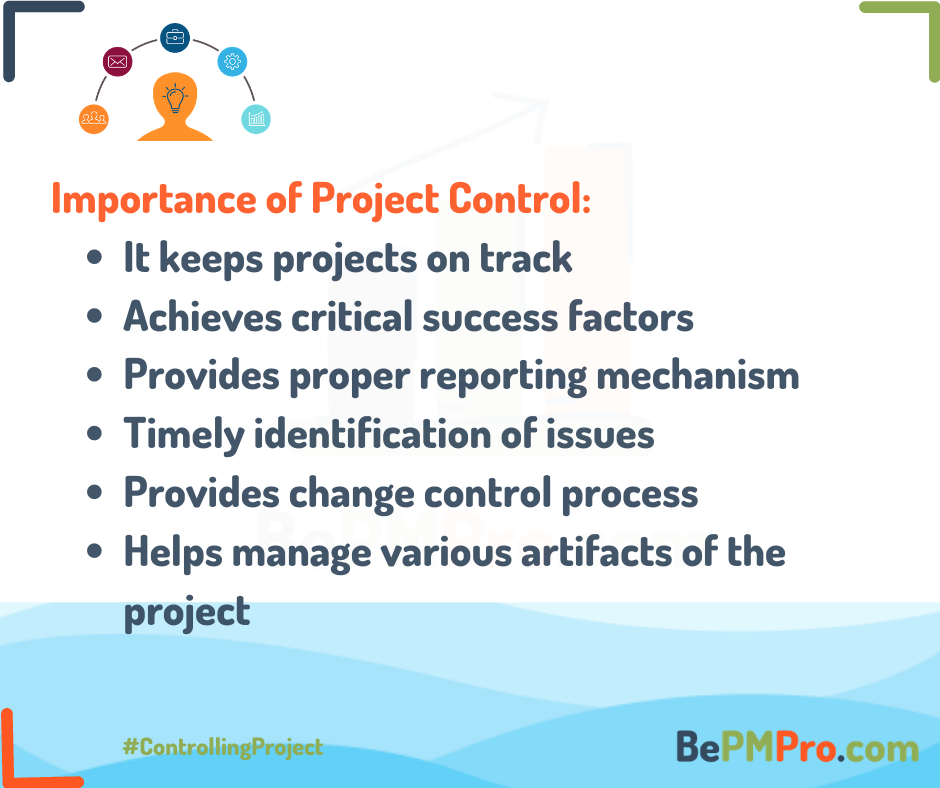 Requirements of Project Control
There are a few factors which a project manager need to consider while controlling a project. These factors not only include the items to be included in the project plan, but also to be considered while executing the project itself. Here we have listed some key requirements.
Consider baselines as starting point
Track constraints and assumptions
Establish appropriate control processes
Compare current statuses with baselines
Perform proper reviews
Report to stakeholders on time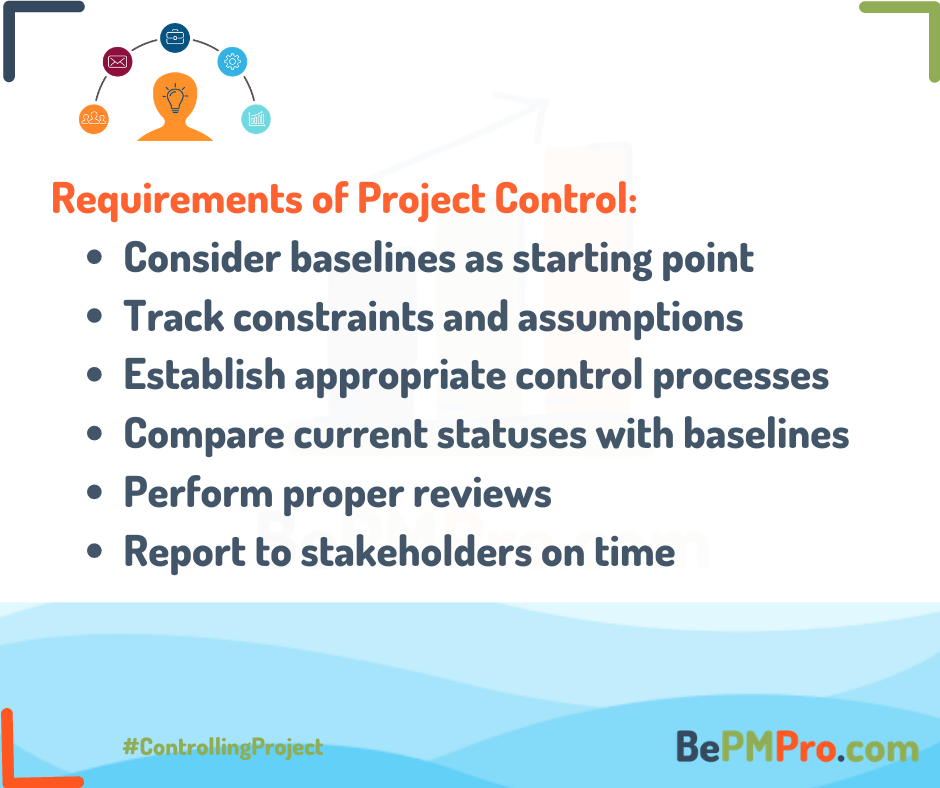 Process of Project Control 
Controlling a project is not complex, but a careful process. If the proper care is not taken during the execution of the project, it is go in the wrong direction very easily. So we have listed the steps used for controlling a project.
Keep track of scope and priorities
Establish project control processes
Set and track assumptions
Monitor issues and risks
Take corrective measures on time
Review and report to stakeholders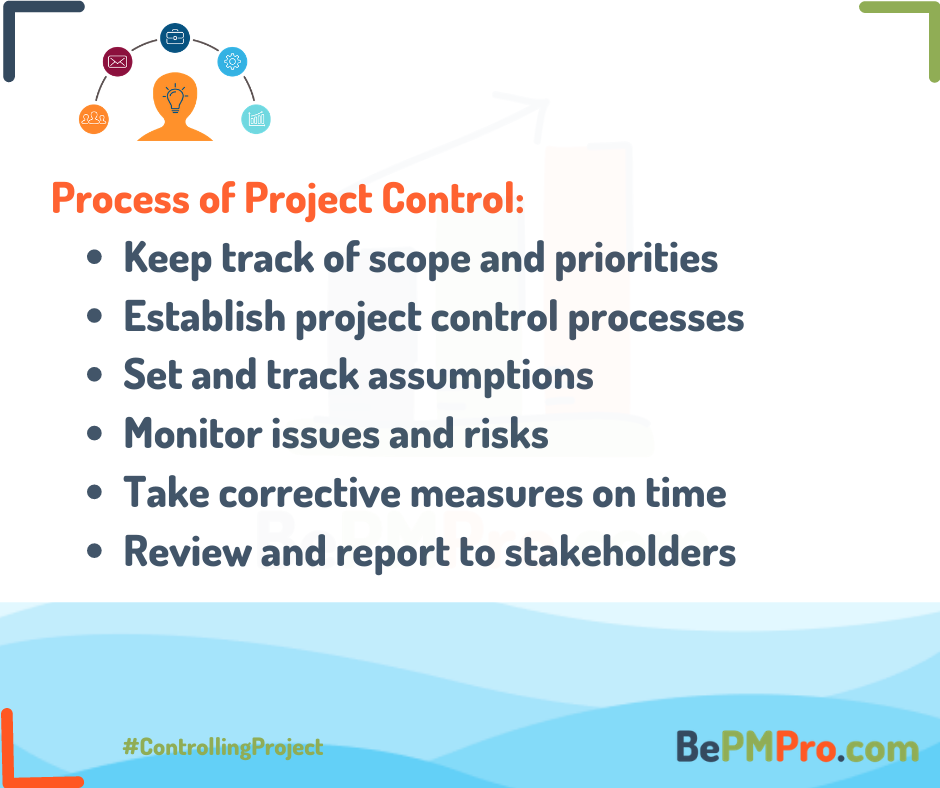 Managing Project Variances
If a project starts going off track from what we planned, it's called variances, and project control processes are set up to avoid this. We either need to correct the problem or reset our baselines if our assumptions were wrong.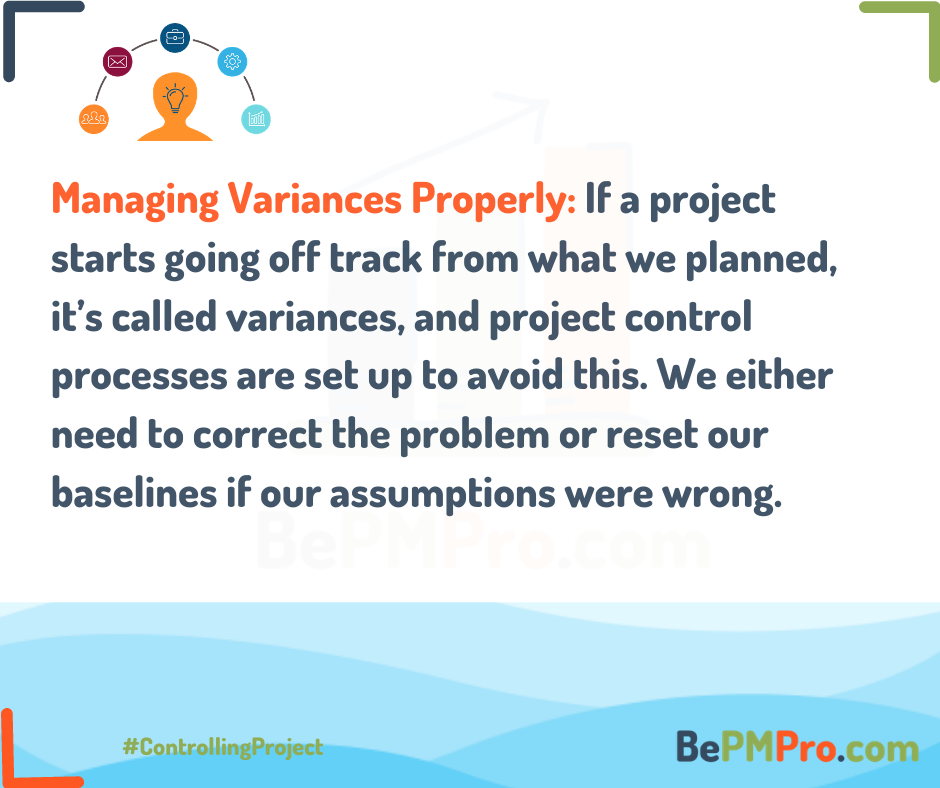 Causes of Issues During Project Control 
No or incorrect baselines
Incorrect assumptions
No project control processes
Ignoring the priorities or scope
Inconsistency in project tracking
Incompetence of project manager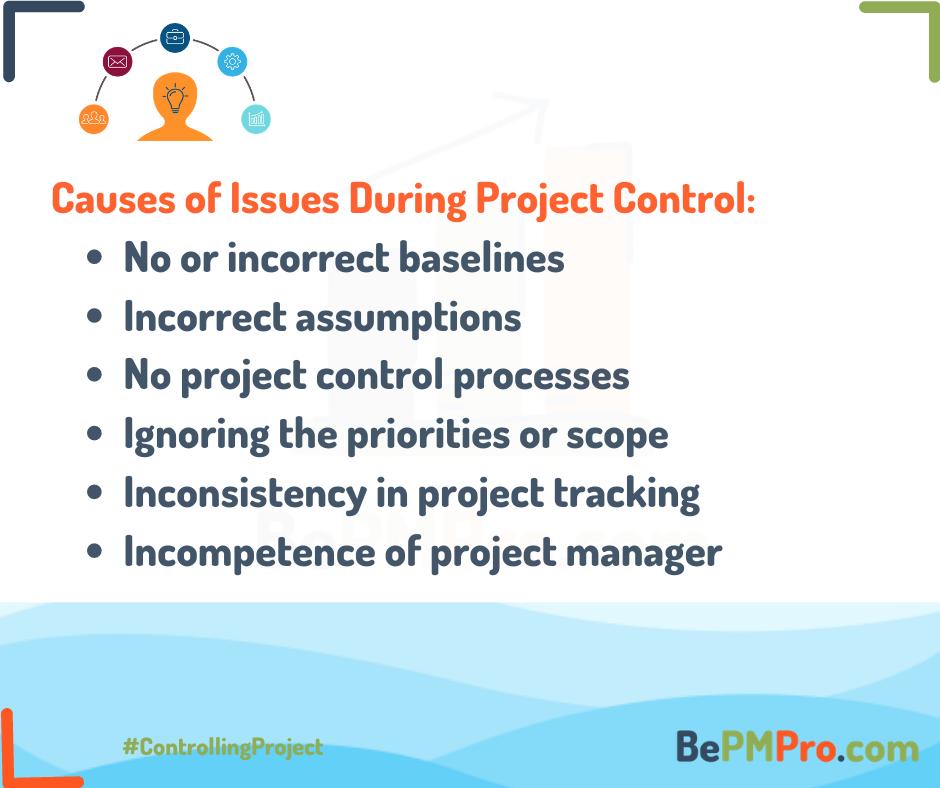 What is Managed in Project Control
Project control process helps to manage project requirements, risks, procurement, quality, schedule, costs and performance. If any of these things go off track, it is the project control process which brings them back on track.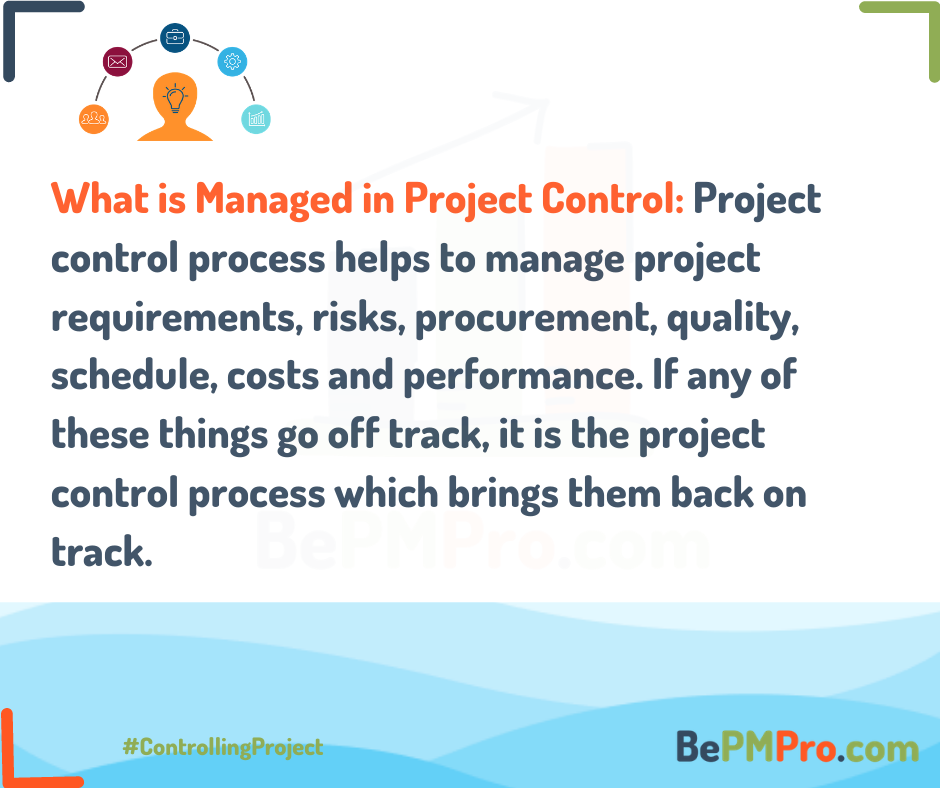 The understanding of the key project control concepts must be of importance for a successful project manager. If these concepts are not clear or ignored during the execution of a project, the project is bound to fail and there is no antidote to that.